Dear friends,
We want to thank all of you who prayed for our Katzir/Harvest summer youth camp. Katzir is the youth division of Fields of Wheat. Thanks to a great team of leaders, and the people praying for us around the world, the camp was a huge "success". We hosted 85 teens from all over the land, and we saw the Lord do so much during this amazing week.
CONNECTED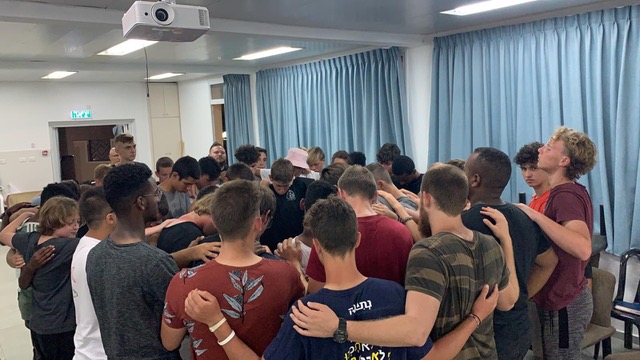 The theme and name of the camp was "connected". It was all about dealing with the difficulty of being disconnected and isolated for a year and a half, overly connected to the wrong things, but above all, learning to connect with God in a deep and meaningful way in our lives. Interestingly, we also found ourselves doing the camp in a beautiful location in the desert, where biblically speaking, was THE place to disconnect, connect with God, and be transformed.
DEEP HEALING AND RESTORATION
One of the highlights was the last evening on Wednesday. We had an incredible breakthrough and a real outpouring of the spirit that evening. After the teaching, I felt led by the spirit to ask who in the room feels lonely or isolated. Slowly, many kids, boys and girls, raised their hands. Then, we had them stand in the middle of a circle, and have everyone else shower them with prayer and love. What I expected to be a short prayer, turned into 1 hour of ministry time with so much deep healing and restoration for many teens. This was exactly our prayer before the camp – we knew that a year and a half of physical isolation would have a toll emotionally and spiritually. It was amazing to watch God bring healing into those places.

EVEN COVID CAN'T STOP THE WORK OF GOD'S SPIRIT
At the end of the camp, we found out that even after all our efforts, one of the teens who attended had been carrying COVID. Making matters more difficult -We found out Thursday evening, after everyone was on their way home or already home. As of this report, we have 62 confirmed cases from the camp, plus a few more secondary cases (people went home and passed it on to a few others).
Please pray for all the leaders and teens who are sick right now or in quarantine at home. 
Thankfully, we received great feedback from parents, even with the COVID, telling us how much they appreciate Katzir and how much they see it impacted their children. That, for us, makes it all worth the sacrifice. Although this is not how we hoped to end the camp, what the enemy wished for evil, the Lord will use for good. 

Thank you for standing with us for the youth of Israel,

Blessings and love,
Joel Jelski & the team

P.S. – Below are some testimonies from some of the teens. Each one is gold to us, and exactly the reason we sacrifice and work to make these camps possible.

S – On the first night I felt frustrated. I kept seeking the Lord but felt stuck. On the second night, I felt led by the spirit to kneel. As I knelt and prayed, I saw a bright white light. At first, I thought it was someone with a camera. I looked, and everything was dark. I then understood God was shining his light into my heart and the Lord wanted to do some new things in my life.

P  — For the longest time I felt alone, like I didn't belong. For the first time after this camp, I feel like I belong, like I'm not alone. That God can bring freedom and breakthrough into my life.

M – On the second day, I felt the Lord move me deeply in a way I had never felt before. I repented and gave my life to the Lord.

Y – For the few years before this camp, I was not walking with the Lord. On one of the nights, I felt led to kneel. As I knelt, I began to weep, not understanding why. I became angry at God because I could not hear him. As I talked and prayed with my small group leader, I understood that my sin and rebellion had built a barrier between me and God. I repented, gave my life back to the Lord, and realized that all of my running after the world and my desires were not better than the plan God had for my life.